Prenuptial Agreements
At its' very heart, a prenuptial agreement seeks to protect the marriage, not destroy it before it even begins. The right attorney understands this and can help the process be more about peace of mind and understanding than contentious mistrust. Many soon-to-be spouses think of prenuptial agreements as a sign that the person they love really doesn't love or trust them. In fact it's not about trust at all, but about life. Life changes constantly and so do marriages. These agreements are not limited to just "after marriage" issues due to divorce or death. Prenuptials can even address issues within a living, healthy marriage such as how to handle finances, and issues with children – for example an agreement on religious upbringing. So money and wealth are not the only matters that a couple can address before saying "I do". The main goal is to create a strong understanding between the spouses so that contention and conflict are minimized when life changes.
Compassionate, Reliable representation – Albuquerque Divorce and Custody Law Experts
Call the Law Office of Dorene A. Kuffer to speak with a family law attorney.
Complexities of a Prenuptial Agreement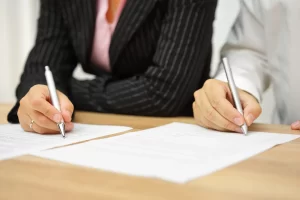 In some cases however, drafting a prenuptial agreement is very complex because of significant wealth or health issues. One example is where one party owns one or more businesses that were created and financed long before the contemplation of marriage and they seek to protect these assets as separate property. Others have inheritance or trust issues that might involve their children or other relatives. And yet another example, might be an individual with a degenerative disease where they want to agree before marrying on certain treatments or forms of long-term care. When the issues are complicated, choosing an attorney with the right knowledge and experience becomes vital.
But no matter what the reason or how simple or complex the issues are, a prenuptial agreement should always be in writing, signed by both parties, and notarized. It's also very important that both people have a reasonable amount of time before marrying to review and sign these documents. Once signed, this document is a contract or agreement that is enforceable in a court of law. The goal is for your prenuptial to withstand any court scrutiny and be enforceable.
A prenuptial agreement doesn't have to mean that the wedding is "off". If dealt with in the right way, both spouses should feel relief that the big life issues have been settled at the beginning of their new life.
Post Nuptial Agreements
So what if you didn't get a prenuptial agreement (an agreement before marriage) but you feel you need one now? Perhaps you've both discovered some issues that if settled and agreed upon, might strengthen your marriage going forward. You can create and sign what's called a Post Nuptial Agreement. The word "post" means "after", or after the marriage ceremony. The only difference is that you're signing after the marriage date. But post nuptials aren't legal in all states. They are in New Mexico. So if you move from New Mexico, your agreement might not be valid.
Questions about prenuptial agreements in Albuquerque, New Mexico? Call family lawyer Dorene A. Kuffer at 505-924-1000 today.
How Can We Help?

"*" indicates required fields